What is the Content Distribution Ecosystem?
September 29, 2018
/
/
Comments Off

on What is the Content Distribution Ecosystem?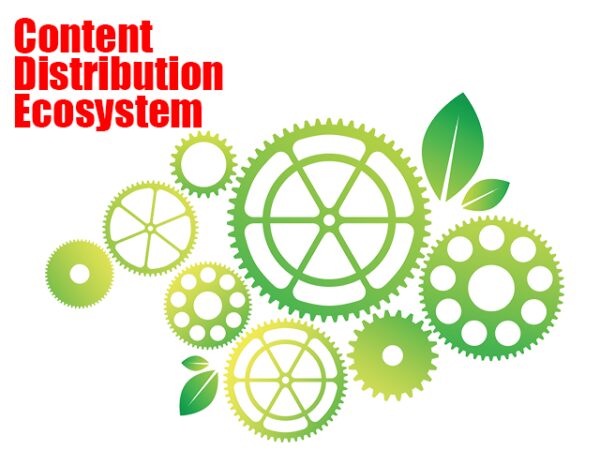 The days of a public relations program's success being judged by the number of press releases sent via the newswire or en mass via an email blast are long over. Still, that hasn't stopped marketers today from throwing lots of money and time at these old-school tactics – ones that have little or no ROI or value in today's digital-centric media environment. Why is this?
Simply put, it's because these approaches were very effective in the traditional media distribution environment of the past, where publishing company influencers such as editors and journalists held the keys to coverage and visibility.
The Internet, and particularly the weblog, more commonly known as a blog, changed all of that. As disruption due to web publishing and blogs accelerated, marketers – and many PR consultants and professionals – refused to acknowledge the shift to the emerging digital media landscape and stuck with tried and true tactics old-school PR tactics. Too much money was still being made by these old-school service providers that were tapping into the confusion brand marketers had, and not enough ROI was being demanded by clients to force a change.
Fast-forward to today's web-centric publishing environment where print publications and newsrooms are being decimated and editors and journalists come and go weekly. No longer can a PR professional rely on a network of editorial "friends" to promise coverage to a client. Where visibility of your news release was a challenge in the past based on an editor's decision to run it, today, with over 2-million blog posts published every day, much of the content produced and distributed via the web gets buried under a mound of clutter. Content visibility is still a problem, it's just that the point of influence has shifted from the gatekeeper to the fire hose.
The Content Distribution Ecosystem is a PR-based brand publishing approach that addresses this new publishing environment. It leverages the power of PR as a non-paid third-party endorsement practice while leveraging the power of web publishing to amplify media mentions and brand-published content.
The Content Distribution Ecosystem is built around the benefits of the Integrated Marketing Communications model. Integrated Marketing Communications, or IMC for short, focuses on the visibility and impact you get as a brand publisher as brand messages are consistently delivered across multiple marketing channels in sync for maximum impact.
This dynamic reflects the power of synergy. Synergy is defined as "…the interaction or cooperation of two or more organizations, substances, or other agents to produce a combined effect greater than the sum of their separate effects." Put in even simpler terms, the Content Distribution Ecosystem is like a 1+1=3 approach to marketing communications.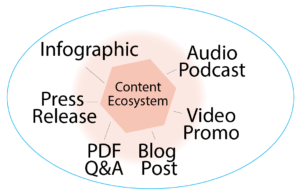 Here's how a Content Distribution Ecosystem approach works. Ultimately, between four to eight PR content assets are created and distributed, in a synchronized manner, all with a similar message. These individual content components become part of an integrated content "cluster." Think of the release of this cluster of similar-themed content as an integrated PR campaign.
Tapping into the power of an influencer's voice as the centerpiece of the PR cluster campaign, an interview is done with an influencer (a happy customer, an industry guru, etc) via phone or Skype, where your product or service is highlighted from a use-case perspective. That interview is captured as a digital audio file and edited and produced into a short 8-12 minute podcast. This is then linked to from a blog post or page on your website and also uploaded to any number of digital media distribution platforms, including SoundCloud, iTunes, Libsyn, Stitcher, to name a few.
Next, the audio interview is transcribed and fashioned into an editorial style Q&A in PDF form, complete with pictures, logos, and any other brand element. The layout is designed to mimic the feel of an editorial article. This is also linked from the website, and can become a downloadable asset you can share via email as well.
Next, a press release is created using support points and quotes from the interview. The press release is pitched to targeted media – editors, bloggers – using a robust media relations tool like Muckrack or Cision. The digital nature of email means that activity on the emails sent to these influencers can be tracked in terms of opens and link clicks, two activities that communicate the journalist has taken interest in the pitch, a good sign that would lead to a follow up call or email.
A branded infographic is created using third-party research on the industry sector tied to the product announcement. A blog post is also created, using the infographic as one visual. The blog post is uploaded to your website and the Facebook pixel is installed for the potential promotion of the news on Facebook.
A VNR (Video News Release) version of the press release can also be produced. This is a short less than 2-minute video version of the press release, using images of the product and featuring voice-quotes from the customer obtained in the original interview. This VNR can be uploaded to any number of video hosting services such as YouTube or Wistia.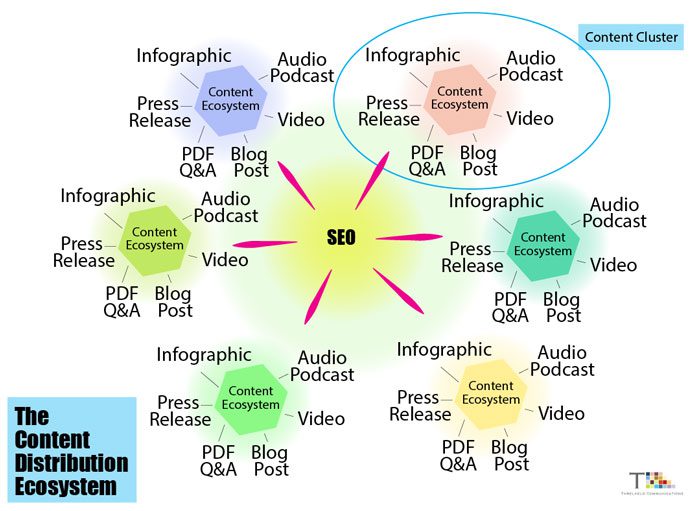 Now, here's where the power of the Content Distribution Ecosystem really becomes evident. Because all of the content components in the digital PR cluster originated from a single influencer interview, there is clear consistency and integration in the messaging strategy across media asset as an individual reads through or listens to content in the cluster campaign.
And, each component in the campaign is cross-linked and/or hyperlinked to encourage multiple levels of exposure to the messaging. For example, after reading the press release, an individual could click to the PDF Q&A interview with the brand advocate. From that PDF, an individual can click on a link to the audio podcast, which references the infographic and related research. The blog post has links to the audio podcast and an embedded version of the VNR.
In the Content Distribution Ecosystem, there are actually two levels of distribution from a brand publishing perspective. The first is the organic distribution of the individual pieces of cluster content – a press release via 1-2-1 delivery to journalists, a podcast uploaded to Libsyn or iTunes, for example.
The second level of distribution comes via brand social media platforms. Each content component in the content cluster also gets distributed via social media, such as links to the press release, podcast, and other materials Tweeted or posted on Facebook or LinkedIn. And even better if your website is structured in such a way to host each content cluster on a page on your website. This way links promoted on social media push traffic back to your site, details of which can be captured through the Facebook pixel or Google Analytics code.
Since, when uploading the blog post on your website, Facebook pixel code was also installed, this means you can leverage the content and visibility through your Facebook marketing efforts for very little money. To learn more about leveraging the Facebook pixel, read my blog post on this topic.
In summary, the increasing amount of content clutter on the web is making it harder and harder for brand marketers today to get exposure via traditional PR methods. A Content Distribution Ecosystem approcah addresses the shift of influencing point in the media landscape to digital publishing and offers brands a way to continue to tap the third-party endorsement power of a strong Public Relations program.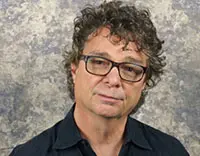 Bill Threlkeld is president of Threlkeld Communications, a content digital marketing and public relations advisory based in Santa Monica, California. Threlkeld Communications specializes in content ecosystem campaigns, also known as the Content Distribution Ecosystem, a unique content approach that synchronizes and integrates PR, Social Media, Blogs, Audio, Video, Email Marketing and other content marketing components for systematic distribution and measurable results.